Zoom Whitening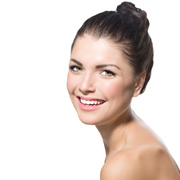 Our Beverly Hills Zoom whitening expert offers Zoom whitening, a powerful new teeth whitening option that can whiten teeth by up to ten shades in a single session. With a unique carbamide peroxide-based gel and light activation, Zoom whitening gives patients better results than what is possible with whitening kits sold in stores. Because Zoom whitening can be repeated until desired results are reached, truly stunning improvement is possible with this treatment.


n contrast to chemically activated whitening treatments, Zoom whitening gel is instantly activated with exposure to a special Zoom light. The bleaching compounds work well on superficial dental stains like those associated with smoking and coffee drinking. Recognizing that teeth whitening may cause unwanted sensitivity afterwards, our expert in Zoom whitening in Beverly Hills offers fluoride treatment to keep patients comfortable.

Zoom Whitening Beverly Hills
Like other procedures that are virtually non-invasive, Zoom whitening can be used by most patients who visit our Beverly Hills Zoom whitening expert. Our dentist may recommend this treatment to patients who want to resolve brown or yellow stains that result from diet or lifestyle factors. When patients have blue or gray discoloration from internal decay, Zoom whitening is unlikely to give good results. Unfortunately, results may also be less than optimal for patients who have major bridgework, tooth-colored fillings or veneers.


Our dentist offers Zoom whitening in short sessions, each consisting of multiple whitening cycles for maximum results. At the beginning of treatment, our dentist places a barrier in the mouth to prevent the whitening gel from damaging delicate oral tissues. After applying the gel to the teeth and activating it with the Zoom light, our dentist allows 15 to 20 minutes for whitening to occur. Our dentist then removes the gel and repeats all of these steps before applying fluoride to the teeth at the end of the appointment.


Side effects from Zoom whitening are rare, particularly with post-treatment fluoride application, but some patients may experience temporary tingling afterwards. While this will disappear quickly, the results of Zoom whitening can continue to appear for days after a session. To learn more about Zoom whitening and how it eliminates surface stains from teeth, patients can schedule a consultation with our expert in Zoom whitening in Beverly Hills.

Back to Articles