Tips for a Sparkling White Smile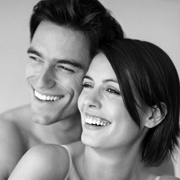 Teeth can become stained for many reasons, but you can keep yours sparkling white with the right care and attention to your smile.
Good Dental Hygiene
Brushing at least twice a day and flossing once a day are critical to keeping your teeth bright and healthy. Daily dental hygiene keeps plaque and tartar under control and helps remove debris and substances that could cause discolorations.
Staining Substances
Anything that can stain fabric can also stain your teeth. Coffee, tea, wine, artificially colored gums or candies, energy drinks and even mouthwash can leave dyes on your teeth. Avoid anything that is brightly or vividly colored, particularly if it has artificial coloring.
A Healthy Diet
A nutritious diet can help strengthen teeth, remove cavity-causing debris and stimulate saliva flow. Look for crunchy, juicy fruits and vegetables and produce that is rich in vitamin C. Dairy products are also helpful because they can neutralize acids from other foods and their calcium can strengthen the dental enamel.
Drinking
Avoid artificially or brightly colored drinks whenever possible. When you do indulge, use a straw to minimize contact between the drink and your teeth.
Regular cleanings
Visiting your dentist every six months can ensure your teeth remain in the best possible condition. Our dentist can evaluate your teeth for any signs of problems, and a cleaning can polish away superficial stains.
Professional whitening treatments
When teeth do show signs of staining, a professional whitening treatment can restore their luster without altering the natural structure of the teeth.

Contact our Beverly Hills teeth whitening expert today to learn more or to schedule your consultation.

Back to Blog