Avoid These Foods to Have Whiter Teeth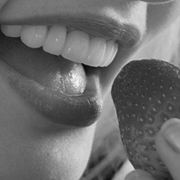 Discolored teeth become more common with age, but aging alone is not responsible for stains. In fact, most discoloration is due to lifestyle factors. Nicotine is a common cause of stains, but your diet may also play a role in the color of your teeth. Our expert in teeth whitening in Beverly Hills explains.


Virtually any food or beverage that is capable of staining cloth is also capable of staining your teeth. Coffee, tea, wine and soft drinks are some of the most common stain-causing substances, but they are far from the only ones. Other foods and beverages that can discolor your teeth and leave you hiding your smile include:
• Berries
• Energy drinks
• Curries
• Tomato sauce
• Artificially dyed candies
• Juices
• Soy sauce
• Popsicles
It can be easy to eliminate staining foods from your diet when they are unhealthy. Eliminating energy drinks, cola, frozen treats and candy from your diet can help keep your smile at its brightest and healthiest. However, you may not want to eliminate healthy foods that cause stains. After all, tomato sauce packs a powerful anti-cancer punch with lycopene while wine is chock-full of antioxidants.


Instead of ditching these healthy foods from your diet, learn to enjoy them wisely. Swish your mouth with water after eating or drinking a potentially staining substance, and brush your teeth 30 minutes after your meal or snack. Consider using teeth whitening treatments to eliminate any stains that do accumulate.


Contact our dental office today to learn more or to schedule a teeth-whitening consultation.

Back to Blog